Episode 47 – Playing Games with Resolutions
Tina Marie, Rob, Zack, Michael
2 months ago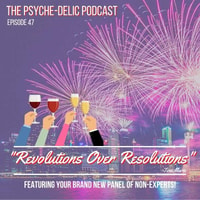 00:00 Welcome to our first episode with our new full panel! Mike loves Zach's beard and the compliments come flowing. Zack compares The Macy's Thanksgiving Day Parade to deflated balloons in a gutter. Jimmy Fallon should never do a cartwheel again. The crew highlights their most positive moments of 2020.
7:40 "All Hail Tina". Tina talks about her first conversation with Mike and immediately hitting it off with Zack. Crashing cameras, audio fails, calling someone by the wrong name for an extended period of time to sounding like cave trolls and a virtual breakdown are some of the embarrassing moments of the year for the squad. Like Mike somehow gets referenced and Lil Bow Wow gets a rare shout out.
15:00 Zack glamorizes the weather in Boulder, Colorado, while Mike expresses his disdain for New York weather. Noise reduction gets a W. Tina tells a terrifying tell of when she climbed too far up a mountain and had to be rescued by EMT's. The panel tells their greatest lessons learned this year. Pursuing passions, promoting positivity, overcoming negativity, surrounding yourself with like-minded people, and authenticity are important topics discussed.
20:35 "DO YOU WANT TO PLAY A GAME"? Tina attempts a Saw reference as a tribute to episode 2, To Weed or not to Weed? She proposes the game Never Have I Ever and the crew realizes they're too old to remember the rules, but sort of figure it out. Zach realizes all of the things he's been missing out on after getting a wakeboarding question. Which panelist stole a car and got away with it? Which male panel member has never been a lesbian? Did someone accidentally call their wife, mom and who got called their dog's name. Mike declares his competitive nature and tries to take out Zack. Who walked down a dark alley with a crack addict? Rob forgets the only rule to the game and Zack blames it out the weed. Who hates their feet and has painful toenails? Who got snowed in on a mountain with Buffalo Bill's grave? Is a fractured vertebrae considered a broken bone? Who crafted riot gear and watched their friend get hit by a car while protesting Operation White Shield? Someone reveals they're watching the first season of The Mandalorian while recording. Which two panelists battle it out for the smallest ass cheeks? What city can you find a butt sock or a poop sock? Which two panelists have driven large vehicles in foreign countries while under the influence of psychedelics? Mike explains at great length the importance of driving a stick shift. Which panelist was being spied on by a county drone while on ketamine? Will Zack try it for the first time? Who threw a haymaker at an alpaca for spitting a hot, hairy loogie at them? Did they apologize afterwards? The game concludes and Zack is the only loser, but he's received a lot of awards lately so it's ok.
43:40 Why does Mike want to talk about New Year's Resolutions so bad? The crew explains their perspectives on this matter. Setting yourself up for failure, getting overwhelmed, bad expectations, self-sabotage, deeper behavioral issues, reset buttons, regret and other perspectives are all analyzed in-depth. What are the origins of New Year's and is it based on lies? Why is January named after the Roman God Janus and what is the hidden metaphor behind it?
52:10 Zack goes on impactful philosophical tangents about the shortcomings of New Year's Resolutions and its failure as a helpful concept. Owning up to mistakes, learning and growing as badges of honor is also touched on. Rob ties in guilt, shame, regret, and repetitive cycles, then proceeds to get sentimental. The crew concludes with the challenge of delivering a message in the proper way to the proper people, active listening and being humble but confident.
58:00 This concludes The Psyche-Delic Podcast's first official episode with their full new panel! Happy New Year!!! #RevolutionsOverResolutions Outro Song: Nice Out by Dylan Sitts
For livestreams: https://youtube.com/c/thepsychedelicpodcast
Patreon: https://patreon.com/psychedelicpodcast/
Facebook: https://facebook.com/thepsychedelicpodcast/
Instagram: https://instagram.com/psyche.delicpodcast/
Our Sponsor: www.artiehoffman.com
Our Publicist: www.s-j-network.com
Support The Psyche-Delic Podcast by donating to their Tip Jar: https://tips.pinecast.com/jar/the-psyche-delic-podcast
Find out more at http://www.thepsyche-delicpodcast.com
Check out our podcasting host, Pinecast. Start your own podcast for free, no credit card required, forever. If you decide to upgrade, use coupon code r-e3766a for 40% off for 4 months, and support The Psyche-Delic Podcast.