Episode 46 – Shootin' the Sh*t with a New Panelist
Tina Marie, Rob, Mike
2 months ago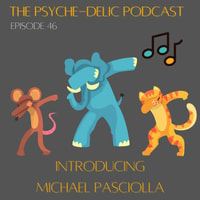 00:00: Intro Song: Before Chill by Yomoti. Welcome to the panel Michael! With the addition of our latest two Psyche-Squad members, we have a complete panel once again! An organic conversation unfolds before the recording of our Ego discussion that turns into a full length episode. Michael does a "PP" sound check because he has some poofs. Tina dubs him a history buff. Gregorian chants, Eyes Wide Shut, egregiously, and extemporaneously somehow make their way into the mix early. He explains just how deep his nerdiness goes with many made-up adjectives.
04:00 Michael explains the term Rule of Thumb and its misogynistic origins. Tina finds out that "finna" and "thirsty" are now in the official dictionary. The crew elaborates on thirsty a lot and the hip-hop origins of the word b* is talked about in-depth. Look up the debate Does Hip-Hop Degrade Society? Michael references to. What does the word b* mean to you?
8:40 Tina seamlessly changes the subject and explains coming up with a topic of for this episode that doesn't actually happen until Pt. 2. Michael says he still hasn't listened to our podcast and Rob jokingly says podcasts suck, but ours is good, as an ode to the topic of ego.
10:35 Tina does the standard intro and can't pronounce Michael's last name (Pasciolla). Rob's middle name is Michael. Did The Godfather conquer the Scandinavians or was Italy conquered by the Vikings? Michael explains the complex nature of his Italian heritage extensively. Different shades of white, olive and Olive Gardens are talked about. Michael expresses his love for mozzarella and apparently people actually say "mozz" as slang.
16:30 Tina and Rob start to ask Michael three hard interview questions. Michael explains what he dislikes about humanity the most and how to be the change. He humble brags about having the Samsung Galaxy Z Fold 2 and Tina becomes extremely jealous. He also refers to Apple as being the Fisher Price of PCs. Rob and Tina explain how they think the Apple logo symbolizes the Forbidden Fruit. Michael goes into great depths about his ex-employer, the falling out they had, and how to protect yourself against shady bosses. He explains how far he has to be pushed in order to get angry.
24:30 Michael states his biggest weakness, how it affects the ones closest to him, and ironically calls himself "The Situation" by accident. Tina busts out her usual quiz, this one about the 6 different types of egos. The crew describes their answer. Which two panelists get social and who gets independent?
29:50 Michael explains that he is a Libra and how his astrological sign ties into his dry, deadpan sense of humor. What does Earth Dragon mean and why is Mike pictured as The Punisher holding a baby gavel? Michael elaborates on Western and Chinese astrology signs. Which panel members is a rooster and which one is a rat?
34:00 Tina explains the stress and mental anguish she went through before and during the Indie Pods United '20 Summit and why she should be proud. Vulnerability being s strength is discussed and how it's perceived as weakness. Talking through problems and venting being misconstrued as nagging stem from this topic. Michael expresses his Chocolate Almond Milk craving and love for The Grinch with Jim Carrey.
40:00 Michael finds a loophole in using Amazon Prime while still maintaining his stance of hatred for the industry giant. Tina explains the original name of The Psyche-Delic Podcast, why it had to be changed, and the previous two logos, one which was made in Paint. Michael explains the moral dilemma between learning to do things for yourself and paying people in your community to do things for you. Should you save money, promote the humans around you, or give in to corporations? Outro song: Old Grump by Smartface.
For livestreams: https://youtube.com/c/thepsychedelicpodcast
Facebook: https://facebook.com/thepsychedelicpodcast/
Instagram: https://instagram.com/psyche.delicpodcast/
Our Sponsor: www.artiehoffman.com
Our Publicist: www.s-j-network.com
Support The Psyche-Delic Podcast by donating to their Tip Jar: https://tips.pinecast.com/jar/the-psyche-delic-podcast
Find out more at http://www.thepsyche-delicpodcast.com
Check out our podcasting host, Pinecast. Start your own podcast for free, no credit card required, forever. If you decide to upgrade, use coupon code r-e3766a for 40% off for 4 months, and support The Psyche-Delic Podcast.