Episode 2 – "To Weed or Not to Weed?"
Tina Marie, Rob, Dawn, Nicko
1 year ago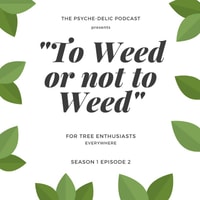 Do you love marijuana? Perhaps you've never tried it, but are curious. In this "pot"cast, The Psyche-Delic Podcast digs into the science behind the high (what is the difference between THC and CBD anyways?), medicinal benefits and risks, and share personal and hilarious experiences of cannabis use. Each of these open-minded hosts have tried it, so even if you haven't, you might get a feel for it once you hear this show. Cooking with cannabis! Have you heard of this? We've got a recipe for you in the form of a comedic interlude. While you may know that you can't technically overdose on marijuana, did you know pot can still kill you? You'll find out how in this episode filled with both science and laughs! More marijuana facts and giggles, CBD for pets, Cannabinoid Hyperemises Syndrome (CHS) and edibles. The hosts discuss the very real and unspoken dangers of using this powerful plant, alongside its many benefits. So informative! You'll surely learn things you didn't know before, and stick around for several personal cannabis stories that will surely have you ROFL!
For livestreams: https://youtube.com/c/thepsychedelicpodcast
Patreon: https://patreon.com/psychedelicpodcast/
Facebook: https://facebook.com/thepsychedelicpodcast/
Instagram: https://instagram.com/psyche.delicpodcast/
Our Sponsor: www.artiehoffman.com
Free Audible Book: https://audibletrial.com/psychedelic/
Our Publicist: www.s-j-network.com
Support The Psyche-Delic Podcast by contributing to their Tip Jar: https://tips.pinecast.com/jar/the-psyche-delic-podcast
Find out more at http://www.thepsyche-delicpodcast.com