Episode 42 – Personality Reveal
Tina Marie, Rob
3 months ago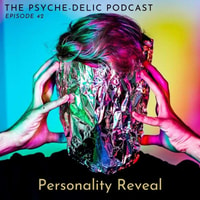 00:00 We're back for your regular scheduled programming! The IPU20 Summit was a tremendous success. Watch over 60 hours of our LIVE content on the Indie Pods United YouTube channel, and join our wonderful community on Facebook. Visit indiepodsunited.com to find all of the links. Song: "Nocturnal Jam" by Sarah, the Illstrumentalist. Watch The Psyche-Delic Podcast which includes our full podcast and video interviews that you can't access on our audio show.
01:00 How would you describe yourself? Seems like a simple question, but it can reveal a lot about someone's personality. Do you identify with your occupation or something deeper and more personal? This question alone can show if you're humble, introverted, extroverted, etc.
03:30 What is your biggest accomplishment? Tina says "apparently" a lot in this segment and vows not to use the word again for the rest of the episode. This question can reveal a lot about your past and where your interests lie.
05:30 One of the two recently came out with their trauma on being kidnapped, tying into one of the questions that can "reveal someone's true personality." By making this realization, the response to this particular question quickly changes. You can listen to the story of this trauma by visiting award-winning author of "The Mosaic" Visit Daniel Bruce Levin's podcast on YouTube: "Conversations with Strangers" to watch their enlightening episode as well as his very deep and personal conversations with hundreds of others.
06:00 How long does it take someone to answer the question about their accomplishments? Great insight is provided on what it means. Tina has some advice for Tinder users.
07:00 Which one of the two has read THOUSANDS of books? What types of books do you read? Do you read at all? Why is this even important? Someone gets a little philosophical, but that clearly happens often on The Psyche-Delic Podcast. We keep talking about books, but I bet you can't guess what TYPES of books we do have in common.
09:30 WHAT IS YOUR DREAM JOB? Do either of them have a dream job? What is the meaning behind answering this type of question and what can it reveal about your personality? "Apparently" a LOT. Proven by psychologists, this question, including several others are asked a lot when studying the human psyche. They discuss their dream jobs. Tina explains how she used to make $10K weekly pre-COVID. Tina gets offended that some people don't believe that "puppy cuddling" is an actual job.
12:15 Guess who's personal hero is THEMSELF. This question speaks a lot to one's true character. Tina gets into why ego is so important. Rob has a much more in depth response to his personal hero. They decide this is one of the most meaningful questions they have picked apart yet.
15:15 There are questions that some people want people to ask them. Do you have one? What is it? Are you being honest with yourself about it? Rob makes up a new word that should be in Merriam-Webster 2021, but in a philosophical way. Tina struggles with this question and does a little rambling to get around it. They speak about how they have helped others using psychology and variations of this question.
18:10 A little discussion on exes happen, and they pick apart what they've learned from those relationships, taking a moment to really get introspective. What guilt, shame, lack of attention, and self-entitlement can do to you.
20:10 How does anger manifest in your body? This is a profound question that you probably shouldn't ask someone in that exact way, especially if you're dealing with an angry person. What bottling up anger can do to you from the perspective of someone that feels anger in a deep way. Tina empathizes with those that deal with anger, realizing she is more of a "reactor" or "responder" when it comes to anger. This question is really to help the other person, and not so much for yourself.
23:20 Philosophies we live by, and why they are so important, no matter how cliche they might sound. Forgiveness, boundaries, negativity, philosophy... In a nutshell. Tina doesn't agree that this question is casual by any means. Political sides, and more, and why they shouldn't matter to humanity. Advice that Rob should have taken yesterday, and spitting some knowledge so that you can take it into account and use it for yourself. Some people might not have morals, according to psychologists, if this is a question they have difficulty answering.
27:45 Tina has no issues expressing what she likes the most about herself, and neither does Rob. They just do it in very different ways. Can you guess what this question is? People that brag too much MIGHT have narcissistic personality disorder. The two go in depth about the question more and cite one of their favorite episodes on Narcissism (there are three parts). They go in depth a bit more on manipulation and how it all ties together with the discussion.
29:50 See if you have anything in common with either Rob or Tina when it comes to what they'd do to change the world if they could. People have a desire to chase money. Is that you? What does this say about you? Find out. Humanity's coming extinction somehow becomes involved in this portion of the show. Are we aliens here to save the world or just very good at beauty pageant answers? Probably a bit of both, but at least we're being honest. More moral values touched on, and do they care about the wellbeing of others?
33:15 One of the most commonly asked questions in the corporate world gets some pretty interesting responses. Do you play well with others? We'd love to hear your responses. Visit our fanpage by clicking this link to our show CLICK ME, LIKE ME. PLEASE?
36:10 Wrapping up, Tina decides she doesn't agree... But what's new? She explains why everything seems so vague and gives advice on what's more important and how to actually go about using the questions they answered in a more constructive way. Rob makes a Lebron reference, and somehow it makes complete sense.
39:00 Tina shows some love to her co-founders of Indie Pods United, and their sponsor Artie Hoffman, psychic and medium. Big thank you to Steven Joiner of the S.J. Network. Outro Song: "Purple Clouds" by Sarah, the Illstrumentalist"
Thank you so much to: Cammy Thompson of Mythstorie, Jeff Revilla of Stuff I Never Knew Trivia Game Show, Gerald Glassford of Pop Culture Cosmos and Lakers Fast Break, Author Nigel Beckles of In Conversations with Nigel Beckles, Sean Dustin of Nowhere To Go But Up Podcast, and Maria Daniels of Successfully Chaotic/owner of Reset Business Consulting.
Indie Pods United gives many thanks to our top-tier sponsor PINECAST, who we are currently hosting our show on, and could not be happier with. Use code IPU20 for two months FREE on the platform!
We also thank RocaBella Brands! (Tina swears it's the best vodka out there and it is winning AWARDS left and right). By purchasing RocaBella you are supporting first-responders and helping with charity by RocaBella Gives.
YouTube: https://youtube.com/c/thepsychedelicpodcast
Patreon: https://patreon.com/psychedelicpodcast/
Facebook: https://facebook.com/thepsychedelicpodcast/
Instagram: https://instagram.com/psyche.delicpodcast/
Our Sponsor: www.artiehoffman.com
Support The Psyche-Delic Podcast by donating to their Tip Jar: https://tips.pinecast.com/jar/the-psyche-delic-podcast
Find out more at http://www.thepsyche-delicpodcast.com
This podcast is powered by Pinecast.