Episode 43 – Modern-Day Parenting
Tina Marie, Rob, Maria from "Successfully Chaotic"
3 months ago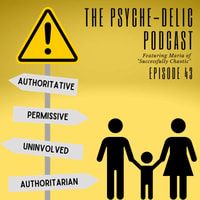 00:00 Intro song: Focusing by Cushy. Introducing Maria from "Successfully Chaotic." Tina Marie provides a super random quiz. The panel jumps in on how they feel it's wrong to hit people. Somebody sings "The Clean Up Song" from Barney and a seemingly perverted comment ensues. Older kids vs. younger kids are discussed.
05:15 Should you allow your child to watch R-rated movies? Which panelist was banned from watching "Scary Movie 3"? RedBox gets called "wack." Which panelists had a "taint-fest" at age 15? Our "Lonely and Sleep Deprived" episode is referenced. BEWARE THE DANGERS OF RAMEN NOODLES! Do you have snack rules before bed time? Rob believes it's ok to have pretzel sticks before bed. Maria is a "helicopter mom" and the term "airplane dad" is created. Somebody gets falsely accused of using the wrong adjective. Tina says the word "buddy" three times which is very unlike her.
10:30 It is clarified that Maria knows how to read, but is her husband illiterate? Is it ok to throw children across the room? Is it appropriate parenting to make children work for their toys? Somebody explains that their dad paid them generously as a child to pick up pinecones. $10 per pinecone in fact and they sadly only managed to pick up a lifetime total of five. Pinecones are very scary apparently.
16:05 What is the main goal of parenting? The panel is collectively labeled as "best friend parents." Maria refers to her first-born as a "guinea pig child" and she touches on her learning experiences. The panel gets into the psychology behind childhood development.
19:20 Everyone agrees that autism should be referred to as a language barrier instead of a disability. Maria talks about her rewarding experience she's had raising her son, who has autism, and how he's helped her grow as a person. She recalls an encounter with an old man that shamed her in public after her son had an episode and explains how emotionally crushing that was for her.
22:45 Tina Marie defends crying babies on planes and condemns the adults that end up crying on the plane as a result. Tina Marie pulls up some text messages from boredpanda.com revealing a few cringy, shameful parenting moments. Rob tops it off with what he believes to be a horrible impersonation of a certain mother. Are Pokemon cards demon cards? The four official parenting styles are discussed in depth. The panel philosophizes about the legitimacy of these parenting techniques and tell personal stories throughout.
31:30 Tina Marie turns it up a notch in the way she questions the validity of these parenting styles. Rob questions Tina's questioning on the matter but they decide not to argue about it. Maria sides with Tina and explains how her parenting changes depending on the day and all of the different variables to take into consideration.
35:00 The "Freestyle" parenting technique is created by the ladies and is dubbed the only valid parenting style. It is unanimously decided that being a parent is a role, not an identity, and Rob links this to his family. "The Five Love Languages" by Gary Chapman is incorporated into parenting. The panel reveals what their love languages are and the most common one is also revealed.
42:10 The Psyche-Delic Podcast is VERY excited to reveal a new permanent panel member who will be making their debut on their next episode! Outro song: Into the Blue by Luwaks
For livestreams: https://youtube.com/c/thepsychedelicpodcast
Facebook: https://facebook.com/thepsychedelicpodcast/
Instagram: https://instagram.com/psyche.delicpodcast/
Our Sponsor: www.artiehoffman.com
Indie Pods United: www.indiepodsunited.com
Support The Psyche-Delic Podcast by donating to their Tip Jar: https://tips.pinecast.com/jar/the-psyche-delic-podcast
Find out more at http://www.thepsyche-delicpodcast.com
This podcast is powered by Pinecast. Try Pinecast for free, forever, no credit card required. If you decide to upgrade, use coupon code r-e3766a for 40% off for 4 months, and support The Psyche-Delic Podcast.