Episode 45 – The 3 Krampus of the Semi-Dark Web
Tina Marie, Rob, Zack
2 months ago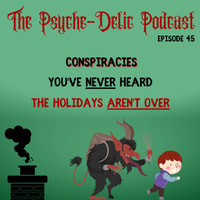 There are some very... Interesting holiday traditions that Tina Marie, Rob, and Zack discuss. It seemingly just continues to get darker as they begin to talk about different "Christmas conspiracies." Beware: This episode is not for those that are fans of Santa Claus AKA Satan. Can you decipher what could be real or not? Come hang out in this twisted, but hilarious episode with The Psyche-Delic Podcast. In order to see all of our hyperlinks, please visit the official site: www.thepsyche-delicpodcast.com****
00:00 Have you ever had an odd feeling about Santa? Some of the panelists clearly do. Zack has extremely large hands that you cannot see. The Mandela effect is blowing a panelists' mind. Can you figure out the strange traditions of several different countries? As it gets progressively darker, they touch on Germany, Japan, and Scandinavia. Intro song: A Winter's Night by: Etienne Roussel. Happy LIFE day (Star Wars people get it). Fish is a very important component of all the banter to come during the rest of this holiday quiz which progressively gets darker. What is the most "Christmassy thing" you can do? Do you know about Italian feasts? All you need to know is- "MEAT STICKS." Tina Marie learns about the plural of "fish."
07:00 This is where Tina Marie shines her epic Spanish pronunciation more than ever. Which country was conquered more than any other? Have you heard of this festival? (Visit link by visiting official site). Haunted house vs. Nativity scene. Random people are coming for you...
09:20 Surely you know about Krampus. We're still in the quiz stages, as highly entertaining as it is. Krindlekrouch or is it KrindleGRAMP and Rumpelstiltskin- there is a correlation. The few are thrown out about the Russian traditions. Some underlying witch moments occur. Be sure to hide your broom from one of us. We make it easy for our American listeners by providing our beloved audience with some easily understandable pronunciation. Rob is winning and it's very unfair.
13:30 "I'm gonna pillage your villages." KFC is VERY important to what country? Zack continues to stick to the fish. Which panelist loves fried chicken? (Link for popularity of KFC in Japan) Which panelist is "aggressively" lactose intolerant? 
15:20 We break the fourth wall. Thanks to Zack, this episode exists. Go check out his creative work (somenobodies.com) What is the affinity with the "Elf on the Shelf?" Tina Marie and Rob know nothing about this. They begin to feel like boomers. Apparently Obama and The Lord of the Rings have some type of correlation. Many conclusions begin to be drawn. From the CIA and Stargate archives to being monitored by these elves are picked apart. Should you be worried about metaphorical nuts and your soul?
19:30 Facebook privacy is watching you. Santa is apparently an evil surveillance machine and continues to be Satan throughout the episode for reasons that you will need to figure out yourself. The three philosophize on a conspiracy created by the Conservatives. Capitalism, blasphemy, creepiness, and materialism is all discussed in depth. Will he plead guilty? It's nearly irrefutable. Zack finds it quite easy to apply a sinister undertone to reindeer.
24:50 One panelist is more than willing to give away dead teeth. Voodoo, taxes, witchcraft. Feel free to buy one of these panelists' "parts" that are not of use to them. Do you eat placenta? We've all had the opportunity. Apparently Santa is trying to mend his ways, allegedly. Santa is full, yet also unredeemed. Myths and conspiracies continue. Who are the 13 original bloodlines? Rob does too much name-dropping and Tina Marie has no clue this easter egg has been dropped until now.
29:20 How to protect yourself from Santa 101 AKA Satan. Apparently Tina Marie is not allowed to have opinions. Paganism and the birthday of the sun. Generally, we do not speak about religion, but somehow we philosophize this and brain-eating in tandem. Should we eat a soul? 
32:00 The Northern Lights AKA the "Aurora Borealis." Why did America not get to see them this year? A very specific acronym gets bleeped. Tina Marie apparently plays the harp. Or does she? A Coca Cola Christmas and why economics play into this insane conspiracy and the propaganda. Nobody really believes that Jesus was born on the day that we call Christmas.
34:30 Krampus, and "his" origins. Delving deeper into Christmas conspiracies, the crew picks apart what the beast-man is. Dante's Inferno in short is slightly touched upon. Have you ever heard of the "Brown web?" We've all heard of the "Dark web." Some lesser known conspiracies going in the direction of "psychic emanations" and more begin to get a bit out of hand. 
38:00 Frosty the Snowman is probably a demon. He is also considered a human by Rob. Tina Marie has metaphorical buttons, as we all do. Zack loves "Home Alone" and it gets very deep when discussing Macaulay Culkin. What is this "conspiracy" with the main character? Who does he become? Find out. 
45:00 Friendly reminder that elves are hypnotized and slavery is never okay. Also, gentle reminder that Santa is still probably Satan. Visit www.somenobodies.com AND another reminder that we are likely being facetious about MOST of this. However, can you decipher what's true or not? Link to song: "A Figure of Speech" by: Nocturnal Spirits
YouTube: https://youtube.com/c/thepsychedelicpodcast Patreon: https://patreon.com/psychedelicpodcast/ Facebook: https://facebook.com/thepsychedelicpodcast/ Instagram: https://instagram.com/psyche.delicpodcast/ Our Sponsor: www.artiehoffman.com (Text 5129146038 to contact this celebrity psychic/medium)
Support The Psyche-Delic Podcast by donating to their Tip Jar: https://tips.pinecast.com/jar/the-psyche-delic-podcast
Find out more at http://www.thepsyche-delicpodcast.com